***The Iowa Standard is an independent media voice. We rely on the financial support of our readers to exist. Please consider a one-time sign of support or becoming a monthly supporter at $5, $10/month - whatever you think we're worth! If you've ever used the phrase "Fake News" — now YOU can actually DO something about it! You can also support us on PayPal at
[email protected]
or Venmo at Iowa-Standard-2018 or through the mail at: PO Box 112 Sioux Center, IA 51250

***At the end of every year we revisit some of our most popular stories from the calendar year. This article exposed some of the books available at the Waukee Northwest High School Library. This article isn't intended to be seen by kids, so please consider this a "reader warning." This story was originally published in October of 2021, yet it was one of the most viewed stories of 2022.***
Earlier this year The Iowa Standard wrote extensively about some political proselytizing being done by teachers in Waukee.
The district also defended an LGBTQ-promoting display in the hallway at a school for eighth- and ninth-grade students.
Now, it turns out, the Waukee Northwest High School Library also has some questionable materials on the shelves.
Among them, a book called Gender Queer by Maia Kobabe. Gender Queer has been widely criticized. Chalkboard Review recently wrote about dozens of public libraries recommending the book to children — including West Des Moines.
The fact that more than 60 major public libraries in the U.S. and Canada have been recommending graphic illustrations of children engaging in sexual acts over the last five years is a "catastrophic bombshell," Chalkboard Review reports.
But the fact a book like this is in a school is, well, whatever a level or two higher than "catastrophic bombshell" is.
Gender Queer is a story about dealing with gender dysmorphia. It includes several sexual scenes in which a child gives oral sex to an older man and the author explicitly describes (and shows) toy use during sex.
Here are pictures reportedly of the book: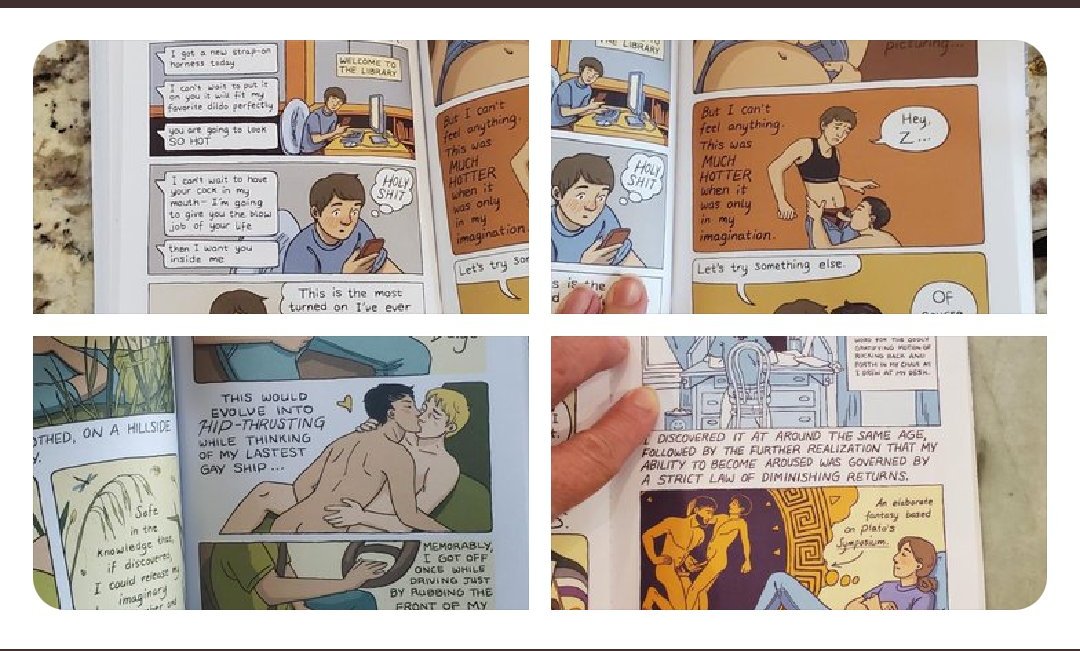 There are pictures equally as bad, if not worse, but I'm not entirely comfortable including them.
Brevard Public Schools pulled the book from its libraries earlier this year. The superintendent there said the book violates the district's guidelines and has no place in the district.
Fairfax County schools removed Gender Queer as well as another book, "Lawn Boy," which is also in Waukee Northwest High School's Library.
While "Gender Queer" contains explicit illustrations of oral sex and masturbation, "Lawn Boy" contains graphic descriptions of sex between men and children according to concerned parents who have raised issue with the book across the country.
Both books — both books — were previous winners of the American Library Association's Alex Awards, which recognizes "10 books written for adults that have special appeal to young adults ages 12-18."
Finally, there's a book called "All Boys Aren't Blue." This book, too, is controversial. Here is why:
"He reached his hand down and pulled out my d**k. He quickly went to giving me head. I just sat back and enjoyed it as I could tell he was, too. He was also definitely experienced in what he was doing, because he went to work quite confidently. He then came up and asked me if I wanted to try on him…He didn't know I was a virgin, and I did my best to act dominant like my favorite porn star. I was an actor, and this was my movie."